Mafia Island is part of Tanzania's Mafia Archipelago is pioneer Marine Activities Island in the Indian Ocean.The Large swaths of the island's southern coastline and surrounding waters are protected by the Mafia Island Marine Park. Whale Shark Snorkeling is one of the best Marine activities in Mafia Island,Snorkeling with Whale Shark and Whale Shark Snorkeling is most Marine spot activities in Mafia Island
Within the Mafia Island Park are many Sea coral reefs which is home to wildlife such as Mafia whale shark Sea turtles and other wildlife species.In the southern beaches include secluded Ras Kisimani,just across from Bwejuu Island.Popular Utende Beach edges onto Chole Bay conservation Area encourage, Mafia Whale Shark Snorkeling, Snorkeling with Whale Sharks in Mafia Island is of Seasonal. Mafia Island is the largest of a small archipelago of islands, atolls and is truly a paradise in the Marine activities in Indian Ocean
Today you can fly to Mafia Island on a day Whale Sharks Tour and return back to your beach Resort for delicious dinner and overnight, Mafia Island offer a wonderful white sand beaches relaxing at your leisure,staying at Mafia Lodge, Polepole Lodge,Mafia Beach Lodge,Kinasi Lodge and many other Beach Resorts where we can arrange for you're a very comfortable accommodation if you wish to stay overnight
Mafia Whale Sharks Sea Adventure Excursions
Mafia Whale Sharks (In season as from between the months of October and March each year)
.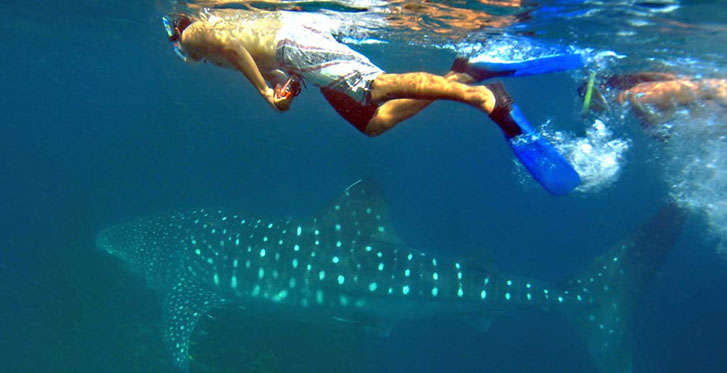 Swimming and Snorkle with the biggest whale Shark,in the sea is an awesome experience that is easily accessible at Mafia Island
These beautiful giants Species, Mafia Whale Shark are seasonally found just a few hundred meters offshore near Kilindoni Harbor in Mafia Island,Whale Sharks CAN BE DONE ON A Flying DAY trip now
Travelers will enjoy a short boat ride towards the west of Mafia Island, brings to a feeding ground for the,Whale sharks and soon fins and dark shapes are apparently
Up to 24, Whale shark,can be seen at any one time: males, females and juveniles, all beautifully marked with stripes and spots
The larger Whale shark are estimated at over 8m long, so they are an impressive sight next to the boat and quite stunning under the water
The boat is able to move among Whale Sharkquietly and visitors can swim and snorkle to get a closer,underwater view of these rare species,wonderful wild animals,Whale Sharks
Mafia Island Whale shark remain in a well-defined areas and have a repetitive for them nd no crowds to compete with as with the swim with dolphins
Please make this Whale Shark Tour a must when you are in Mafia Island. whale shark trip can be combined with a picnic on the beach,swimming,sun bathing will have a trip to the Kilindoni Market or excursion to Ras Kisimani or at Bwejuu Island this is just an option
Whale Shark tiny throat cannot accommodate a human so there is no chance of a 'Jonah' experience and these gentle creatures won't even bump into you if they can avoid you. An unthreatened,whale shark circles and continues feeding, unfazed by respectful snorkelers. Chasing and hazing irritates even these gentle giants
(our sub-adult populations are up to 8meters in length) When pursued or harassed them escape into the deep so that all you see is a huge swish of their tail powering away and then they are gone. Not only the quality of your experience depends on your respect for these animals but it is also extremely important for the privilege of these human-animal encounters to be sustained over the long term
When you book Whale Shark Sea adventure excursion,Including snorkeling equipment,Snorkeling Guide instructor crew Road transfer to and from Kilindoni Dock and boat ride, all conservation and local district entry fees payable as well as refreshments on board
TURTLE WATCHING (IN SEASON)
Boat trip to Juani Island, guide,
SPECIAL BOAT EXCURSIONS
Kitutia Reef or Mange Reef
(full day boat safari,including snorkeling and picnic lunch on the sandbank non-alcoholic drinks and water. Diving an extra charge)
Ras Kisimani (Sunken town)
(full day,including snorkeling and picnic lunch on the beach, non-alcoholic drinks and water)
Miewe Island and Darusi Reef
(Half-day including guide, snorkeling, picnic lunch on the island, non-alcoholic drinks and water)
Boat excursions:
Sunset cruise (min 4pax)
Exclusive boat hire for Chole Bay (7 hrs; dhow with crew, engine and sail)
(Subject to availability of boats,tides and weather conditions)
Half-day (4 hrs fishing)
Full-day (7 hrs fishing)
(Please note that a boat will normally take a maximum of 8guests comfortably and safely. All boats are equipped with life jackets, water with other drinks and first aid kits.)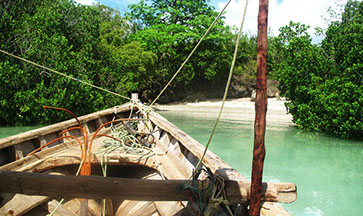 CULTURAL EXPERIENCES…..be inquisitive and learn about our Swahili Culture,island & people!
Accompanied by our trained and experienced personal guides- Including binoculars, water and guide books available from our library.These are also excellent bird-watching trips:
Chole Island and village - min, two persons (BY FERRY)
Jibondo Island and village - min. two persons
Juani Island – min. two persons
Kua Ruins and Kua Channel historic guided excusrsion
Utende Village and environs (walking with guide)